Sleek and Modern Sling Bag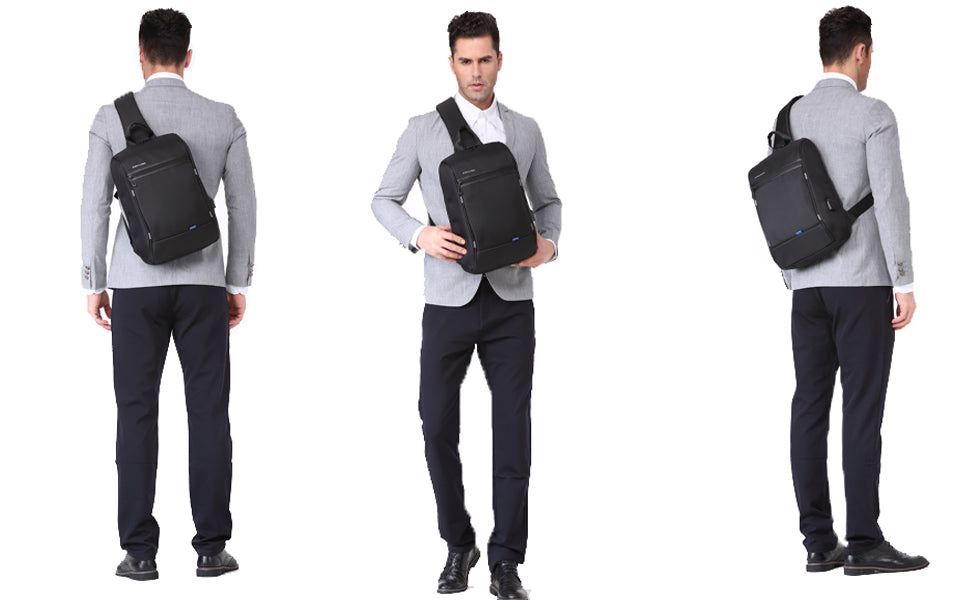 The winking Anti Theft Slim Sling Backpack features Padded-lined compartments that keep MacBook Pro or MacBook Air, tablet computer, Chrome book and even your smartphone safe from scratches. 11" 11.6" 12" laptop and tablet, 13 " MacBook Pro or MacBook Air or Chrome book Sling Backpack In between the device compartments is plenty of room for files. You'll also appreciate the big accessory pocket that holds your power cord and other necessities. And the padded back support system and wide, adjustable padded straps make sure you can take it all with you in comfort.
Product Features
Four Key Features
RFID Blocking Slots and Pockets

By carrying an affordable Winking RFID blocking wallet, data skimming is one thing you will never have to worry about. Winking's RFID blocking Hidden strap pockect, provide peace of mind and complete protection by preventing thieves from remotely "reading" your personal data.

Small, Efficient, Thoughtfully sized

Comfort and Compact,Padded-lined compartments for 11" 11.6" 12" laptop and tablet, 13 " MacBook Pro or MacBook Air or Chrome book and Smartphone protect against scratches.it can hold a lot of my stuffs, such as laptop, notebook, pens, flashlight, waterbottle, etc

Back Security hidden pockets

Back Security hidden pockets in the back, passport, phone and slim wallet fit right in. The lower back zipped pocket is perfect for extra security, sweet strap clip hold glasses .YKK Brand zipper ,There is a detachable fob inside for holding keys.

USB CHARING PORT DESIGN

The USB CHARGIN Port. LOVE this. This lets You use your portable power pack placed in the bag and charge the phone while it's in the exterior holder allowing you to stay on your phone while its charging for all day use

Functional And the USB Port is Great
This bag also has a convenient USB port on the outside for charging a phone (the power pack must be purchased separately). The backpack has a built in cord to connect this USB port to the power pack inside a center compartment
Great little laptop messenger bag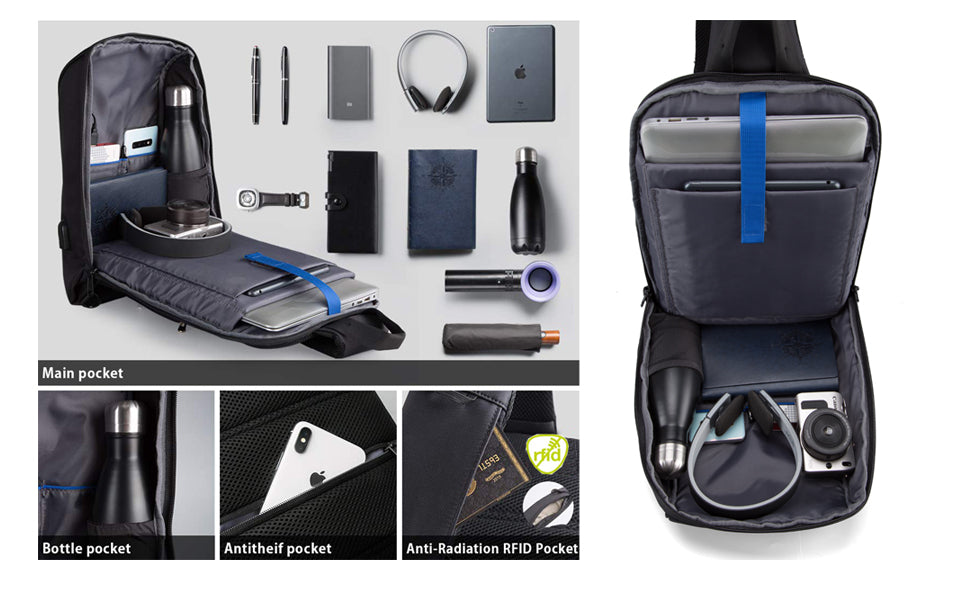 The overall look of the bag is sleek and modern
The bag is constructed well and is made out of water resistant, black nylon. There is a generous handle that is easy to grip at the top and has a well-padded shoulder strap that can flip from side to side depending on where you clip it so the bag hangs easily on either shoulder. There is webbing on the inside of the strap and back of the bag which keep the strap secure on your shoulders
The bag is nicely compact and there are a wide variety of compartments.It appears to be well made and there was a lot of attention to detail in the design. Most seams are not reinforced but they are all uniform.
Outside is a thin front compartment for incidentals,detachable fob inside for holding keys.anti-theft compartment Backside which is handy for holding things like a cell phone, airline tickets (if you still print them), and a passport.Even the shoulder strap has a small compartment at the bottom that is apparently RFID protected.

The bag opens like a clam shell with two zippers.

The bag's main laptop compartment is the extremely well padded rearmost Parts. It would fit laptops up to 13.3 inches in length and nearly 10 inches in width. In front of this is another padded compartment which can hold a standard sized iPad. There is a velcroed nylon strap designed to hold the laptop and tablet in place.
Across from the main compartment are two small pockets fro miscellaneous items--they can hold something about the size of a pack of cards. The compartment on the left has a male USB 3.0 connector that could connect to a battery pack. The USB cable connects to a charge port on the outside of the bag. In between these compartments ia a pen compartment. There is a water bottle compartment on the right side in the front as well.
All this is contained in a very compact package. This is not a bag that you will be able to overload with stuff, but you will definitely be able to stow your laptop, tablet (if you choose) a number of files or a few books. It would make a light briefcase substitute for work or technology carry on for an airplane, so long as you are traveling light and don't have over-sized headphones.

 

This is a nice, compact, messenger bag that is well made and highly functional. Highly Recommended.
Sleek and Modern Sling Bag